---
We will meet at our usual spot, the Chevron-Albertsons parking lot at Carefree Hwy and I-17 on Thursday morning, September 1 at 0500, we will roll out at 0530. Yeah, it's early, but you'll thank me as we set up camp on Night One while we still have some light.

Note: this will be a multi day adventure so dry-camping will be necessary—be prepared for camping in one of the most spectacular regions in the country!

(Photo credit Bureau Land Management)

You will NEED to bring water (at least 1 gallon per day per person in your vehicle, no exceptions).
Extra gasoline is recommended (yep, we'll be off-grid and away from gas stations once we enter The Swell), walkie-talkies (I will have a sat-phone in case of emergencies), firewood for one night (we'll be camping 4 or 5 nights, so if everyone brings one bundle that will be plenty), and of course your sense of adventure.

(Photo credit AmericanSouthwest.net)
Trip will stay on green and blue mostly dirt roads (with a some challenges along the way). High clearance and 4WD (rear lockers a plus) are preferred for this run, although a stock Tacoma, 4Runner, Jeep or other 4WD-equipped vehicle should do fine.

We will be following the route (mostly) listed on the Overland Trail Guide website, at
https://www.overlandtrailguides.com/.../san-rafael-swell...
and scroll towards bottom of the page. We will deviate somewhat from this course, especially the final day after we break camp near Temple Mountain and head homeward.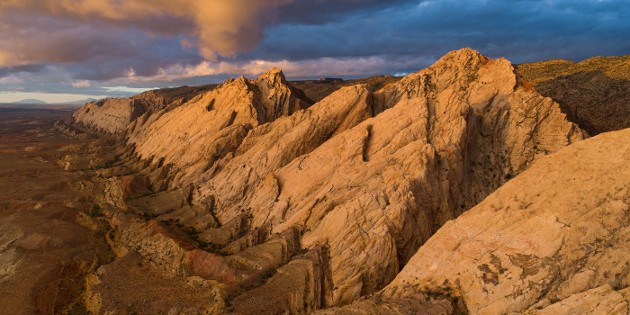 (Photo credit Southern Utah Wilderness Alliance)

This is a great trip if you're new to off-roading, and you'll get a taste of what "overlanding" is all about. There is nothing along this route that can't be handled by anyone with any 4x4 experience.

We will be going off of GPS and the NatGeo Map 712, "San Rafael Swell, BLM - Price Field Office," available on Amazon. We will meet about two weeks prior to the trip to make sure everyone has the .gpx map loaded in their GPS unit, to mark up maps, and to answer any last minute questions.

If you have ANY questions in the meantime, do not hesitate to let me know! Drop me an email at the bottom of the page.

Download the GPX track here (right-click on link and save to your desktop, otherwise GPX file will not download). If you do not already own the GPX mapping tool "TOPOFUSION," download it here. I highly recommend it!

Once open in your GPS mapping program, save as a .kml route to overlay on Google Earth.
---